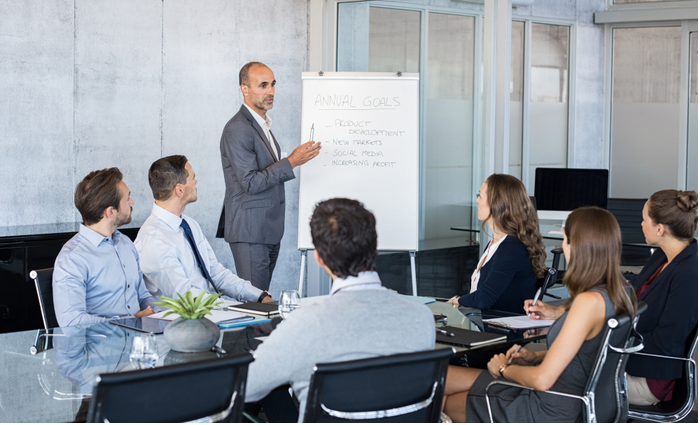 Good leadership is essential for business growth and success. Without it, enterprises can quickly lose direction and momentum.
Companies can use various strategies to empower their executives to ensure this doesn't happen. One growing approach is incorporating outside executive training and external executive leadership peer groups to help your leadership team to reach its full potential.
Here is a quick overview of the top benefits and what they can do for your business.
1. Expands Collective Knowledge
When you encourage executives to pursue relevant professional training and external peer groups, you grow the collective knowledge of your team.
Ideas and leadership traits learned in executive peer groups can be shared with the rest of the team. This cross-pollination improves expertise and drives innovation, not just for one leader, but across business processes in multiple areas of your business. In doing so, individuals become trained experts. Employees can cross over to other departments to find solutions or seek advice from industry leaders, while the company can use its vast knowledge base to gain the position of market authority.
2. Creates a Cycle of High Performance
A recent survey by Execu|Search found that only half of the executives surveyed believe their leadership skills are developing at their company. What many businesses fail to realize is that empowering leaders through further skill development improves their performance, and consequentially productivity of the entire company.
Another way executive development improves productivity among teams is by creating a cycle of consistently high performance. It starts when the employee feels responsible for incorporating what they learn into day-to-day operations to simplify work and increase performance across the company.
Then, executives roll up their sleeves and increase the capacity of their individual contribution and output. They feel responsible for offsetting the investment allocated for their personal career development. This is a signal to the company that they deserve even more leadership opportunities. Ultimately this external and internal drive closes the loop of the performance cycle and both the leader and the company thrive. When you show commitment to your executives, you get commitment back.
3. Attracts Emerging Talent
When companies offer opportunities for professional advancement, it reflects the company's seriousness and desire to invest its resources to benefit both the company and its employees. Therefore, companies which provide tuition reimbursement, cover costs of certification courses or enroll employees in leadership networks are more attractive to talented professionals and driven employees. This helps you to build for the future, as junior executives are more likely to stay at a company that invests in their careers.
Over time, junior executives will learn more and more from senior management and leadership development programs, which maximizes the human resources at the company. Leadership development provides you with enough assets to create and execute a plan for seamless succession and increases your ability to expand and grow.
4. Higher Engagement and Satisfaction
Career development opportunities create a nurturing environment for employees. When companies help their leaders reach their professional potential, these professionals become self-actualized and more self-confident. These executives become the backbone of your growth efforts.
Executives whose ambitions are aligned with and supported by their company are more satisfied with their jobs and more motivated to increase their efficiency. In the process, they become better leaders and more likely to use their knowledge to create mentorship relationships and similar development opportunities for the rest of the staff. Allowing your top leaders to join leadership networks has a downstream impact that is exponential.
This residual mentorship is an excellent opportunity for your leaders to leverage their existing experience and newly acquired leadership skills to develop new talent at the company. A senior executive can become a guide not just to one individual, but to the entire team.
A leader receiving mentoring from a peer network can accelerate mentoring within the company by bringing learned concepts in-house.
Join an Executive Leadership Network
XLN is an executive leadership network that allows executives to connect with each other, share ideas, and learn from real-world experience. Our membership includes an exclusive list of senior executives from successful companies who can advise you on how to build a successful team around you.
Learn more about how we can help you achieve bigger and better things for the leadership of your company.